When you enable replication for an Azure VM, the following happens:
1. The Site Recovery Mobility service extension is automatically installed on the VM. The extension
registers the VM with Site Recovery. Continuous replication begins for the VM. Disk writes are immediately
transferred to the cache storage account in the source location.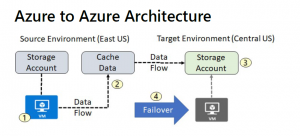 2. Site Recovery processes the data in the cache, and sends it to the target storage account, or to the
replica managed disks.
3. After the data is processed, crash-consistent recovery points are generated every five minutes.
App-consistent recovery points are generated according to the setting specified in the replication
policy.
4. When you initiate a failover, the VMs are created in the target resource group, target virtual network,
target subnet, and in the target availability set. During a failover, you can use any recovery point.
Recovery Services Vault VM Backup Options
Recovery Services vault is a storage entity in Azure that houses data. The data is typically copies of data,
or configuration information for virtual machines (VMs), workloads, servers, or workstations. You can use
Recovery Services vaults to hold backup data for various Azure services such as IaaS VMs (Linux or
Windows) and Azure SQL databases. Recovery Services vaults support System Center DPM, Windows
Server, Azure Backup Server, and more. Recovery Services vaults make it easy to organize your backup
data, while minimizing management overhead.
●● The Recovery Services vault can be used to backup Azure virtual machines.
●● The Recovery Services vault can be used to backup on-premises virtual machines including: Hyper-V,
VmWare, System State, and Bare Metal Recovery.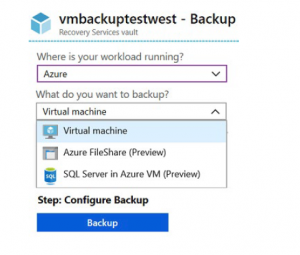 Source: Microsoft Azure Administrator AZ-103 PDF Book